Lesson Plan Overview / Details
Battery technology starts with chemistry and the understanding of how unlike metals in the presence of acid can create electricity. This is a one-hour lesson in which students will be exposed to this basic technology.
In this lesson, students will learn basic concepts of battery technology. After an instructor-led discussion on battery basics, the students will use four lemons to create a simple battery. Students will work in teams of two in this instructor-led activity. They will also have a handout for reference. Students will use an LED to test their new batteries.
Students will start with two lemons to simulate a 'two-cell' battery. They will attempt to light the LED with this set-up. It won't light. They will then add two more lemons to make it a 'four-cell' battery. When this is done, the LED should light.
Lesson Time
Hook activity

10 Minutes

Instructor demo

10 Minutes

Lab activity

30 Minutes

Wrap-up: What have we learned?

10 Minutes
Objectives and Goals
Students will understand the importance of appropriate personal protective equipment and safety practices.
Using lemons to construct a simple multi-cell battery, students will understand the principles of converting energy from one form to another.
As a group, students will understand how to organize and structure work individually and in teams for effective completion of this task.
Individually, students will work on their own, contributing to a group effort in the creation of a simple battery.
Materials required and preparatory steps
Materials needed:
NOTE: Students will work in teams of two. The following items are required for one lemon battery (4 'cells').
1. Four lemons

2. Four -inch lengths of copper metal strips

3. Four -inch lengths of galvanized steel metal strips

4. Five short jumper leads with alligator clip ends

5. One LED
6. Worksheet: Making a Simple Battery

Additional items and materials needed for this lesson:

1. Safety glasses for all students
2. Digital volt-ohm meter (DVOM)
3. Automotive battery cutaway

4. Flashlight with two 'D'-cells
5. Steel wool pad (000) fine
6. Paper plates
7. Towels for mess clean-up
8. Trash bag for gathering waste at end of exercise
9. Worksheet: How much do you know about batteries?
10. Powerpoint slide show: Batteries -- Basics
Preparatory steps:
On the classroom whiteboard:
1. Write down the following: Lesson for today: "How Batteries Work"
2. Draw the four-lemon circuit diagram on the whiteboard. Use the photo shown below. NOTE: To start with, the students will put together a simple two-lemon battery (per instructions on their worksheet). They will add lemons to learn concepts of boosting voltage and amperage.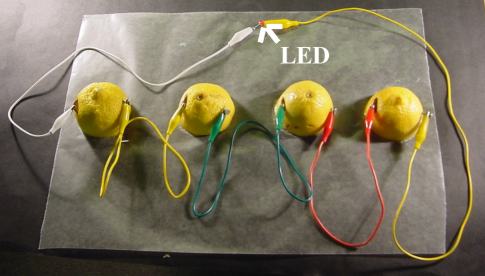 Additional preparation steps:
1. Use a piece of steel wool to clean any corrosion or discoloration from the eight metal strips (four copper and four steel)
2. Lay out paper plates on the table to hold the lemons.
3. Provide to each student group plenty of paper towels.
4. Place trash bags strategically among the groups.
Activities in this Lesson
Assessment
Assessment Types:

Projects, Interviews, Observations,
1. Interviews (questions to students): Instructor will ask key questions to guide students through the learning process. (Calling students out vs. asking for hands).
2. Observations: The Instructor will monitor student activities by walking around the classroom and observing. Instructor will assist as needed and answer any questions that the students might have.
3. Project: Students will follow a Worksheet to create and test a basic battery using lemons and other materials. They will test their battery using an LED. When the LED Iights, they have successfully created a basic battery.